Part 4 Mr. Hiroyuki YOSHIDA
          Senior researcher ICT research team 
          Prevention of global warming research group
          Frontier Technology Laboratory Technical Research institute
          Daiwa House Industry Co., Ltd
 "We are required to create a system where companies can cooperate."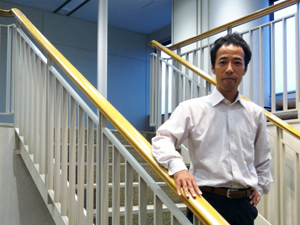 【Biography】
In 1988, he graduated from Department of Mechanical Engineering, Faculty of Engineering, Kumamoto University and joined Daiwa House Industry Co., Ltd.
He worked for management of an automatic production line at a factory and was responsible for the development of residential products.
In 1994, after the establishment of the Technical Research Institute he started to engage in research  and development of products, such as intelligence toilets and Smart House.
Q. What is the point of building the HEMS Certification Center?
We need a place to test the interconnectability of a variety of companies' products. Our ideal is that customers can freely choose among many consumer electronics products.
Q. How did you certificate the systems before the establishment of the Certification Center?
We have experimental houses in our own research laboratory in Nara city. To perform demonstration experiments, we buy a variety of products and connect them to the system that we developed by ourselves.
Q. What is the difference between self-verification and opened certification system?
The biggest difference is that burden of work and cost is reduced for each company.
In the past, every company needed to develop their own software because they all had different communication standards.
But thanks to the integration to the ECHONET Lite, we don't need to develop software from scratch this time and the work burden is reduced.
Even though the final connection test will be required, opened certification system will bring more efficient development.
Q. Why hasn't the common certification system been created until now?
Till now, the idea to connect consumer electronics did not exist. We did not need it.
However, when thinking about saving energy or pursuing further convenience, we have realized the idea of interconnection. But that was not achieved easily because companies have not developed equipment with that purpose until now.
Q. How do you address the security issues caused by connecting previously unconnected products?
Since we are a housing manufacturer, we think that a system which cannot perform basic functions offline is unnecessary; for example a bath that you cannot take without having internet connection.
Keeping that in mind, we made two separate groups; one is the group of connectable items, the other is the unconnectable items.
For example, smart phones can connect to internet directly. But for window opening and closing sensors the cost must be considered.
In addition, as the convenience is increased, the risk of security will also increase.
It will be necessary that users choose services while understanding such risks.
But there are a lot of different opinions concerning this point. We need to discuss more.
Q. What is the goal of Daiwa House Industry CO., Ltd?
We have to develop a service for connecting equipment and have it tested at the Certification Center. There is a limit of ideas and supply capacity with conventional housing manufacturing. We must create a system that companies from different fields can use to cooperate.
Q. Could you give me an example of a system where companies from different fields cooperate together?
For example, housing equipment is meant to be used for decades, but home appliances are remodeled in very short cycles. We should, however, not keep this situation, and my stance on the current business situation is different. A variety of companies must cooperate and consider what the best way is for the whole country and not only for a certain company. We need a system to create a new value.
Thank you very much for the interview.