Part3 Mr.Yoshinori YAGI 
         Chief of Information Economy Division
         Commerce and Information Policy Bureau
         Ministry of Economy, Trade and Industry
"The goal is international diffusion of smart house from Japan.
Activation of the domestic market is an important step."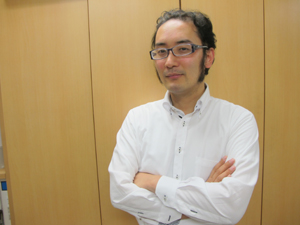 【Biography】
In August 2011, he has been appointed as Chief of Information Economy Division, Commerce and Information Policy Bureau, at the Ministry of Economy Trade and Industry. He has engaged in the work towards standardizing and accommodating business to spread and expand energy management system.
Q What is the point of building the HEMS Certification Center?
Activating the domestic market is necessary to spread the Japanese smart house project internationally.
Firstly in Japan, it is important to make a market accessible to the companies with no prior participation on it. The Certification Center is necessary for this. A wide variety of people or business can join and test interconnectivity at the center.
Q You said the point is that various companies can join. What kind of people would you like to see use the Certification Center?
Till now, mainly major consumer electronics manufacturers work for HEMS. But currently also small housing manufacturers or building firms are beginning to express an interest in it. To activate the domestic market, I want a wide variety of companies to participate in this.
Q As a supporter of the Certification Center, what are your expectations?
I expect the market to grow.
Now, a questionnaire about user's family structure or usage is required.
With that, we can get a lot of data and data makes technology development possible. For example, data concerning the elderly can give us hints on developing security technology.
Thank you very much for the interview.