Part 2  Mr.Takashi MURAKAMI
           ECHONET Consortium  Chairman of technology
"The social mission caused after the Grate East Japan Earthquake supports
the trend of companies to work together on the market. "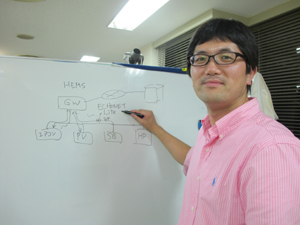 【Biography】In 1999, he joined Matsushita Electric Industrial (present Panasonic Corporation). Since then, he has engaged in the development or standardization activity of home network system. In 2006, he has been appointed as Chairperson of technology of ECHONET consortium.
Q What is the point of building the HEMS Certification Center?
Up till now, each company had to obtain a conformance certificate. With the Certification Center, that process will be possible a third party test and certificate and will also allow many kinds of people to participate. It will bring a much greater reliability to the market.
Q Is it not difficult to make a previously closed certification system an opened one?
Indeed, it is difficult because there are always differences between companies. In the past, we tried to operate on the market together, but that failed after the marketing competition started. Now we have a big chance to change things, since with the smart house project, parties will be able to verify facts not just on paper, but with actual tests, provided by the equipment and testing environment of the Certification Center.
Q Why, this time, is it possible to make companies work together on the market, since that already failed in the past?
One of the biggest reasons is that companies recognize the energy problem caused by the Grate East Japan Earthquake. If until now their goal was merely "making convenient goods for the customer", then that has since evolved into a desire to fulfill a broader social mission. Everybody understands that that mission cannot be completed by only one company, but by companies working together.
Q What is the merit of spreading HEMS?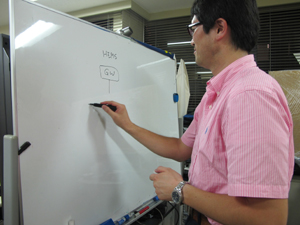 One of the merits is to use energy efficiently. Lately, we try to make consumers use less energy, for example only setting air conditioner to 28 degrees. Our idea however is to use energy efficiently. That means that with HEMS, it will be possible to save energy by using it more efficiently (transfering energy from where it is not required to where it is needed).
Q What is the foal the Certification Center?
The final goal is to make an environment where equipment developed by any company with a ECHONET logomark can be interconnectable. That will eventually create a new market. To that end, we need a place to gather all the needed knowledge and information.
※HEMS is the short name for "home energy management system. This is a system to control energy by using IT technology. It makes the amount of used energy visible and makes it possible to control it.
Thank you very much for the interview.